You will need to contact Trust20 Support and purchase access to a new course and three more assessment attempts.
Based on our accreditation guidelines, a score of 75% is required to earn your Food Handler and/or Food Allergy Certificate.
Unfortunately if you do not pass your assessment in three attempts, you will need to contact Trust20 Support and purchase access to another course for an additional three attempts at passing your assessment.
From the test screen after completing your third attempt, click "Contact Support" which will prompt you to send an email to our support team at help@trust20.co.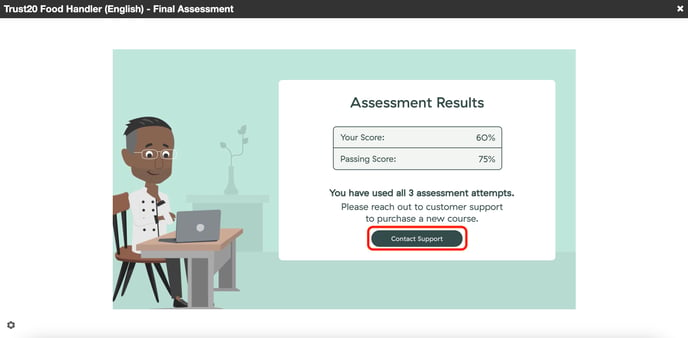 In your email, let us know that you have failed your third attempt and would like to purchase a new course so that you can retake the assessment. For a quicker processing time, it is helpful for our team if you include your name and the email address that is registered to your account.


After receiving your request, we will send you an invoice with the subject line "New invoice from Trust20." Once you pay for your new course, someone from our team will reset your course for you, and you'll be able to log in through the same account.

You will need to complete the course modules again and then you will have access to 3 more attempts at the final assessment.
Please note that the business hours for Trust20 Support are Monday through Friday from 9:00 AM - 7:00 PM EST. Someone will respond to you as soon as possible.