Inform your manager your certificate is accredited by ANAB and comparable to other approved courses on the market to confirm for certain the certificate will not be accepted.
We understand it is incredibly frustrating to find out that your manager may not accept the certificate after you've bought a course and worked hard to complete the modules and pass your final assessment!
Before you panic or buy a new course, make sure your manager knows that Trust20's Food Handler Certificate and Food Allergy Certificate are both accredited by the ANSI National Accreditation Board (ANAB). This means that our courses are comparable to other trainings available (i.e. ServSafe, 360Training).
Your manager or local health department may ultimately not accept Trust20's certificates if they require you to take a specific course.
Unfortunately in this case, we cannot offer you a refund on your purchase.

We encourage all learners to confirm the requirements and regulations with their manager and local health department before purchasing a course.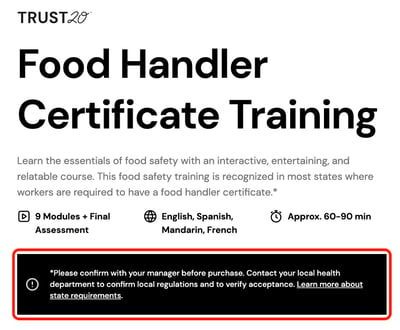 According to the Terms & Conditions acknowledged upon purchase of the course, all sales on Trust20 courses are final, non-refundable, and non-transferable.